Brown ash, called black ash everyone outside of Maine, has long been the preferred basket material of the Northeast and the Adirondacks. Even more important to the traditions of the Native Abanakis and Mohawks than birch bark, all types of utilitarian baskets, created for a multitude of uses, the most recognizable is the pack basket. Every self respecting woodsman, trapper, and guide, had either his own crafted pack, or one made by a basket maker in his area. Fish baskets, as they were called by the Natives, were a close second among these men of the woods and waters. Although the most widely used and commercially produced creels were made of reed or willow, the woven brown ash creel, or fish basket, is deeply embedded in the traditions of the Northeast. I have never seen a commercially manufactured brown ash creel. But many basket makers were highly skilled at crafting creels, they just never made many of them. And usually, if they did, they didn't have a signature style. Each creation was unique in itself. Although there are still a wide variety of styles and designs which still survive, many were lost decades ago. There does seem to be one common thread, however, and that is most of these baskets were made as a functional working creel, and were very basic, no frills. That being said, the artistry of the brown ash creel is, to me, a fascinating and unique traditional craft of the North woods. And I have tried to preserve the skill and recreate and refine some of the styles that I have been fortun
ate enough to have learned.
To my knowledge, to this day there are only a handful of creel makers that work with brown ash. I have been fortunate enough to have had several of them as mentors. Jack Leadley of the Adirondacks, Larry Hurd, and Willard Tilton of Maine, and Louis Paul of New Brunswick. All widely regarded as the most skilled of basket makers. As with so many times in my life I have been blessed to have their knowledge and skills shared with and taught to me.
I have signed and numbered all of my creels, not because of any sense of my own worth, but because after researching and looking at so many old creels, and feeling the frustration of appreciating the craftsmanship and skill involved in creating those old creels, but not ever being able to identify the makers. I felt it was important for future basket makers and collectors to be able to identify different designs and styles.
Traditional Fine Weave Creel
This is the first style creel I learned to craft. The design is a combination of several old creels that I had seen pictured in old sporting journals and collections. The weaving is a fine 1/8" and each one is woven free hand, giving every one its own unique shape and character. Although it is fully functional, they are primarily intended as a decorative collectable. The covers are made from either heartwood birdseye maple, native cherry, or brown ash. With a hand painted deer antler closure. And an over the shoulder chrome tanned leather harness.
This creel costs $250.00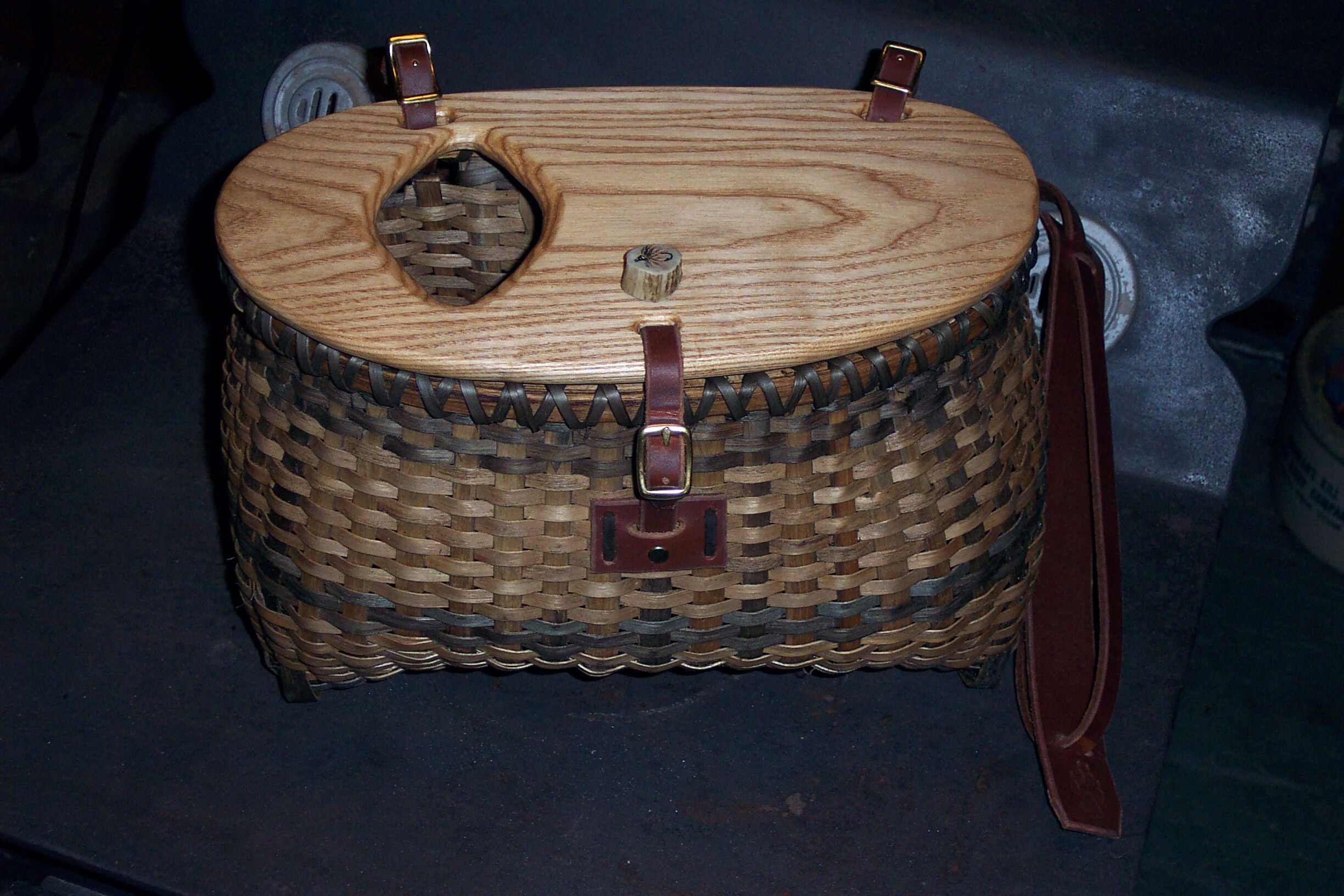 The Working Creel
This is a heavier version of the traditional, it is intended to be actively used by fisherman. This creel is woven with 1/4" weavers, heavier standers, and reinforced corners. The lid is made of brown ash, with a brass buckle, a leather closure, and the harness is a full body harness of chrome tanned leather. Each creel is treated with tung oil as a preservative, and to enhance water resistance.
This creel costs $325.00- Please add $15 for Birdseye Cover
Passadumkeag Trout Basket
This is a reworking of an old Penobscot Indian creel that a friend of mine found along a trout brook deep in the Maine woods. Apparently, it had been there for decades. Fascinated by its unique style, I decided to try and preserve the basics of its design, but added a slightly more ornate weave, and refined the finish. Although this was really a no frills basket, I felt its uniqueness would be enhanced by a few touches, such as the hand-carved beaver closure.
This creel costs $400.00
Sunkaze Catch
Inspired by a creation of my good friend and mentor, Jack Leadley--Who as an Adirondack legend, has resurrected many an old mountain fish basket. I especially enjoy working this unique, old style, with a series of hand painted flies on the front, and its pine lid, which I hand-stitch with deer hide. A hand carved beaver serves as the closure, and adds an unusual touch, I've named this one for one of Maine's premier brook trout streams, which just happens to run along the south side of our farm.
This creel costs $450.00
Otis Jack Fish Creel
This is a replica of my grandfather's creel, and one which I've named after him. Otis Jack, or "Oat", as he was called, was a wild-catter in the Pennsylvania oil fields. Born in 1865, at one time he was the state of Pennsylvania fly-casting champion. He has a great story to his credit. As it was told to me by my mother and aunts, after some strong urging from his buddies, my grandfather "stole the show" during a fly-fishing demo at a sportsmen's show, when he placed a fly on a dollar bill at 40 paces, ten out of ten times! This would have been quite an achievement for any of us, but seeing as my grandfather had lost one arm in a hunting accident, it was even more noteworthy.
This creel costs $425.00
Adirondack Fish Basket
Another Jack Leadley inspired re-creation, a very unique and old design that Jack had uncovered in an old lodge in the mountains. It is the reworking of the old Adirondack style double lidded creel, very rustic and reminiscent of the 1800's. You can just picture this fish basket over the shoulder of an old guide, casting on a trout brook in the heart of the Adirondacks. The unusual contours and additional woven pouch present a unique weaving challenge. Its fitted with deer-antler closures, for an interesting accent, and is a real collectors creel.
This creel costs $450.00
Abanaki Onion Creel
the Abanaki of New England created and used an amazing array of utilitarian brown ash baskets. I've adapted this particular style from a working basket often called an "onion pack", not because of its usage, but because of its unusual shape. Particularly the extremely narrow neck. Easier to release that "big one" than to even think of getting it into this basket. The original native creel, for that "catch and release" fisherman!
This creel costs $425.00
Peol Toma Shiner Basket
Peol Toma was a fabled Passamaquoddy fishing guide, who lived and guided in Eastern Washington County Maine, on the St. Croix river, and its Drainage. In 1903, Augustus C. Hamlin, of Bangor, wrote an article in the Maine Sportsman about his first fishing trip to the historic village of Grand Lake Stream, in the late 1840's. Peol Toma was his guide. His article is a must read for all that long for how it used to be, and this creel is a tribute to the way guides were, and still are, in this little village that stood still. The basswood creel lid is enhanced with a hand carved, and hand painted, landlocked salmon, and a hand painted depiction of the famous Grand Lake Streamer Fly.
This creel costs $550.00 - limited availability
American Museum of Fly Fishing Commemorative
I was asked to create a creel to commemorate the opening of the American museum of Fly Fishing, in Manchester Vermont, in June of 2005. This creel, unlike most of my collectors series, in which I try to capture a historic or traditional style, is my original design. And until now was available only through the museum in Manchester. I've tried to create an unusual and esthetically pleasing creel, that captures the historical and traditional art of fly fishing.
This creel costs $600.00
Jack Pelkey Collaborative
Jack Pelkey of Grindstone Maine, was a well known creel maker, that learned and carried on the tradition of the Penobscot Standing Cedar Creel, made so famous by Emile Robishaud. Emil's creels are now some of the most collectible creels in the country. Jack was Emil's only student, and learned the craft well. Jack only made 368 creels before he passed away in 2005, and his creels are now as collectible as Emil's. Jack was a consummate woodsman and a good friend of mine, and was the first to introduce me to carving. He was, in addition to a creel maker, a very accomplished carver, and started me on the path of carving various patterns on some of the lids of my brown ash creels. Jacks signature carving, on his cedar creeks, is one he learned from Emile, and both his and Emil's are recognized all across the country by collectors as a symbol of Maine outdoor heritage. Jack occasionally would carve his fish in the butternut covers of my creels, as a collaborative effort for some of our customers. There are only 2 of these creels remaining, and are a really unique addition to any creel collection.
This creel is no longer available.
Jack Pelkey Commemorative
This unusually crafted creel is my original design. I've tried to incorporate several of Jacks unique signature touches that enhanced his standing cedar creels, and set this creel apart from any other woven black ash creels. All contribute to a reflection of his influence on my growth as a creel maker. His unique Brook trout carving, the signature feather the he initialed on the bottom of his creels and the scalloped fish hole that he added in his later creels , All are carved in a basswood cover. The body of the creel is fine woven 3/8in brown ash. Jack was a friend, mentor, and kindred spirit of mine. This creel is a small tribute to our connection and his influence on my life. Each creel is inscribed with a tribute to jack, numbered and signed,
This creel costs $550.00